Discover more from Parlons Futur
Chaque semaine, 10 news tech/science/société importantes pour décrypter le futur
Spécial COVID-19, comment le Japon a anticipé Skype en 1920, et autres trouvailles
Bonjour à vous,
Vous recevez la newsletter Parlons Futur : chaque semaine (hum, théoriquement) une sélection de news résumées en bullet points sur des sujets tech, science, éco pour mieux appréhender le futur.
Vous pouvez vous désinscrire en pied d'email, et si on vous a forwardé cet email, vous pouvez vous inscrire ici.
(Je m'appelle Thomas, plus d'infos sur moi en bas d'email.)
---
Au menu :
Meilleurs extraits de l'article : How the Pandemic Will End - The U.S. may end up with the worst COVID-19 outbreak in the industrialized world. This is how it's going to play out. , article tweeté par Barack Obama

Pourquoi, malgré ce qui semble être une gestion catastrophique de la situation aux Etats-Unis, il semble que D. Trump n'ait jamais été aussi populaire

Taiwan, le pays qui embrasse l'IA et les data, tout en protégeant ses citoyens : une solution gagnante face au COVID-19

Meilleurs passages du grand entretien de François Lenglet avec le Figaro

Yann LeCun sur la difficulté du deeplearning à identifier les liens de cause à effet, pourquoi ce n'est pas nouveau ni si grave, l'exemple saugrenu du vol des avions

Meilleurs passages de l'article: Inside Elon Musk's plan to build one Starship a week—and settle Mars

Combien d'heures Mikhail Antipov a-t-il dû jouer aux échecs pour brûler autant de calories que Roger Federer en une heure de tennis ?? La réponse va vous surprendre, allez bien jusqu'en bas de l'email!

L'IA qui fait sourire Cléopâtre, Marylin Monroe..et la laitière en même temps

Comment le Japon avait anticipé Skype dès 1920!!!
---
Tout d'abord laissez-moi vous partager une petite réflexion sur le moment que nous vivons:
Quelques rappels sur les dernières pandémies les plus dévastatrices (wikipédia) :
The "Swine Flu", 2009–10. A H1N1 virus. This pandemic killed around 500,000 people worldwide. It caused about 12,000 deaths in the United States.

The "Hong Kong Flu", 1968–69. A H3N2 virus. This pandemic of 1968 and 1969 killed approximately one million people worldwide. It caused about 34,000 deaths in the United States.

The "Asian Flu", 1957–58. A H2N2 virus. It caused about 2 million deaths globally. (a tué environ 100,000 personnes en France)

The "Spanish flu", 1918–1919. By October 1918, it had spread to become a worldwide pandemic on all continents, and eventually infected about 33% of the world's population (or ≈500 million persons). It vanished completely within 18 months. In 6 months, some 50 million were dead; some estimates put the total of those killed worldwide at over 100 million.
On peut citer pour référence le Sida, même si difficile de les comparer dans l'horreur : HIV/AIDS, or Human Immunodeficiency Virus, is a global pandemic. As of 2018, approximately 37.9 million people are infected with HIV globally. There were about 770,000 deaths from AIDS in 2018

COVID-19 à ce jour a contaminé 420,000 personnes et en a tué près de 20,000, dont 3,200 en Chine, pays d'1,4 milliards d'habitants

Au vu de ces chiffres, on peut raisonnablement penser, même si la pandémie est loin d'être terminée, que COVID-19 sera au final moins meurtrier que les 4 dernières pandémies de grippe citées plus haut...

Et paradoxalement, ces 4 terribles pandémies précédentes ne sont pas connues pour avoir produit de choc économique comparable à ce que nous vivons (Bruno Le Maire dit s'attendre à une crise "comparable à celle de 1929")

C'est vrai au fond, de mémoire, dans nos programmes d'histoire au lycée, pas un mot sur les grippes dites de Hong Kong et asiatique, c'est certain, et peut-être une minute au mieux en 3 ans sur la grippe dite espagnole, et encore. Une grippe qui aurait  pourtant fait plus de morts en 6 mois que première et seconde guerres mondiales réunies! Plus qu'Hitler, Stalin et Mao réunis (10M+20M+40M, roughly)!!

Covid-19, qui a tué près de 20k personnes à ce jour, ne tuera probablement pas autant que ces précédentes pandémies, mais c'est justement parce qu'on fait tout comme jamais auparavant pour l'arrêter, à une échelle inédite, avec près d'un tiers des humains en confinement depuis que l'Inde y est entrée ! D'où le coût économique sans commune mesure cette fois-ci seulement!

Quelle tragique ironie!

La vérité est que si on laissait covid-19 se propager sans grande entrave, comme ce fut grosso modo le cas pour les grippes dites espagnole, asiatique et de Hong Kong, le nombre de morts pourrait atteindre : 7,8 milliards d'êtres humains*30% de personnes contaminées*4% de taux de mortalité (du fait de services d'urgence débordés comme en Italie, VS autour de 0,4% sans débordement) = approximativement 90 millions de victimes potentielles

90 millions de victimes potentielles!!!

Ainsi, il faut s'en rendre compte, ce que beaucoup ont considéré comme une grippette au départ, a en fait le potentiel théorique de faire 90 millions de morts, soit autant voire plus que la grippe dite espagnole de 1918!!!! (même si en pourcentage de la population mondiale ce serait moins qu'alors, il y avait 1,9B personnes en 1917, soit 1,1% de victimes potentielles/pop mondiale aujourd'hui et approximativement 4% en 1918)

Et la seule raison pour laquelle ce potentiel mortifère sera écarté, c'est parce qu'on saborde notre économie, nous vivons un choc digne de 1929 nous disent économistes et dirigeants, c'est absolument dingue et terrifiant, et nécessaire pour limiter le nombre de victimes.
PS : en parlant de 1929, regardez pour illustration les courbes du S&P 500, l'indice boursier basé sur 500 grandes sociétés cotées sur les bourses aux Etats-Unis : en violet celle de 2020, et en vert celle de 1929 :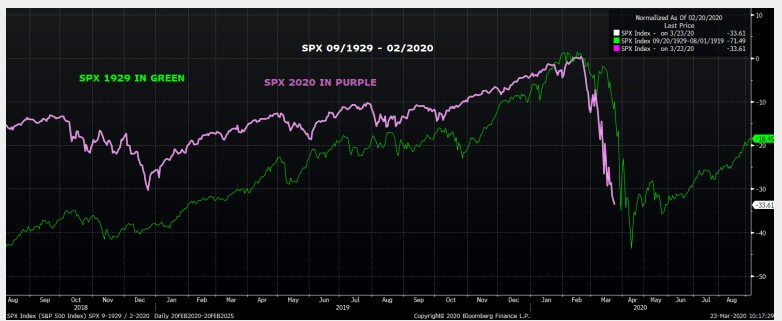 ---
Meilleurs extraits de l'article How the Pandemic Will End - The U.S. may end up with the worst COVID-19 outbreak in the industrialized world. This is how it's going to play out. , article tweeté par Barack Obama
On the Global Health Security Index, a report card that grades every country on its pandemic preparedness, the United States has a score of 83.5—the world's highest. Rich, strong, developed, America is supposed to be the readiest of nations. That illusion has been shattered.

the White House is a ghost town of scientific expertise. A pandemic-preparedness office that was part of the National Security Council was dissolved in 2018. 

Italy and Spain offer grim warnings about the future. Hospitals are out of room, supplies, and staff. Unable to treat or save everyone, doctors have been forced into the unthinkable: rationing care to patients who are most likely to survive, while letting others die. The U.S. has fewer hospital beds per capita than Italy. 

Trump already seems to be wavering. In recent days, he has signaled that he is prepared to backtrack on social-distancing policies in a bid to protect the economy. 

A recent analysis from the University of Pennsylvania estimated that even if social-distancing measures can reduce infection rates by 95 percent, 960,000 Americans will still need intensive care. There are only about 180,000 ventilators in the U.S. and, more pertinently, only enough respiratory therapists and critical-care staff to safely look after 100,000 ventilated patients. Abandoning social distancing would be foolish. Abandoning it now, when tests and protective equipment are still scarce, would be catastrophic.

If Trump stays the course, if Americans adhere to social distancing, if testing can be rolled out, and if enough masks can be produced, there is a chance that the country can still avert the worst predictions about COVID-19, and at least temporarily bring the pandemic under control. No one knows how long that will take, but it won't be quick. "It could be anywhere from four to six weeks to up to three months," Fauci said, "but I don't have great confidence in that range."

there are three possible endgames: one that's very unlikely, one that's very dangerous, and one that's very long.

The first is that every nation manages to simultaneously bring the virus to heel, as with the original SARS in 2003. Given how widespread the coronavirus pandemic is, and how badly many countries are faring, the odds of worldwide synchronous control seem vanishingly small.

The second is that the virus does what past flu pandemics have done: It burns through the world and leaves behind enough immune survivors that it eventually struggles to find viable hosts. This "herd immunity" scenario would be quick, and thus tempting. But it would also come at a terrible cost: SARS-CoV-2 is more transmissible and fatal than the flu, and it would likely leave behind many millions of corpses and a trail of devastated health systems. The United Kingdom initially seemed to consider this herd-immunity strategy, before backtracking when models revealed the dire consequences. The U.S. now seems to be considering it too.

The third scenario is that the world plays a protracted game of whack-a-mole with the virus, stamping out outbreaks here and there until a vaccine can be produced. This is the best option, but also the longest and most complicated

No matter which strategy is faster, Berkley and others estimate that it will take 12 to 18 months to develop a proven vaccine, and then longer still to make it, ship it, and inject it into people's arms.

It's likely, then, that the new coronavirus will be a lingering part of American life for at least a year, if not much longer. If the current round of social-distancing measures works, the pandemic may ebb enough for things to return to a semblance of normalcy. Offices could fill and bars could bustle. Schools could reopen and friends could reunite. But as the status quo returns, so too will the virus. This doesn't mean that society must be on continuous lockdown until 2022. But "we need to be prepared to do multiple periods of social distancing," says Stephen Kissler of Harvard.

When people are infected by the milder human coronaviruses that cause cold-like symptoms, they remain immune for less than a year. By contrast, the few who were infected by the original SARS virus, which was far more severe, stayed immune for much longer. Assuming that SARS-CoV-2 lies somewhere in the middle, people who recover from their encounters might be protected for a couple of years.

After infections begin ebbing, a secondary pandemic of mental-health problems will follow. At a moment of profound dread and uncertainty, people are being cut off from soothing human contact. Hugs, handshakes, and other social rituals are now tinged with danger. People with anxiety or obsessive-compulsive disorder are struggling. Elderly people, who are already excluded from much of public life, are being asked to distance themselves even further, deepening their loneliness. Asian people are suffering racist insults, fueled by a president who insists on labeling the new coronavirus the "Chinese virus." Incidents of domestic violence and child abuse are likely to spike as people are forced to stay in unsafe homes. Children, whose bodies are mostly spared by the virus, may endure mental trauma that stays with them into adulthood

Health-care workers will take time to heal: One to two years after SARS hit Toronto, people who dealt with the outbreak were still less productive and more likely to be experiencing burnout and post-traumatic stress.

The COVID-19 pandemic, by contrast, is affecting everyone directly, changing the nature of their everyday life. That distinguishes it not only from other diseases, but also from the other systemic challenges of our time. When an administration prevaricates on climate change, the effects won't be felt for years, and even then will be hard to parse. It's different when a president says that everyone can get a test, and one day later, everyone cannot. Pandemics are democratizing experiences. People whose privilege and power would normally shield them from a crisis are facing quarantines, testing positive, and losing loved ones. Senators are falling sick. The consequences of defunding public-health agencies, losing expertise, and stretching hospitals are no longer manifesting as angry opinion pieces, but as faltering lungs.

After 9/11, the world focused on counterterrorism. After COVID-19, attention may shift to public health. Expect to see a spike in funding for virology and vaccinology, a surge in students applying to public-health programs, and more domestic production of medical supplies.
---
Malgré ce qui semble être une gestion catastrophique de la situation aux Etats-Unis, il semble que D. Trump n'ait jamais été aussi populaire (!!!!) (CNN)
President Donald Trump is as popular today as he has been since his first day in office.

In a new Gallup poll, 49% approve of the job Trump is doing as president while 45% disapprove, matching the highest his approval rating has ever been in Gallup surveys. A Monmouth University poll released on Monday showed Trump at 46% approval, again the best he has done in that poll in more than three years.

What accounts for Trump's rise? Simple: His response to the coronavirus crisis.

In the Gallup poll, 60% of Americans approve of the job Trump is doing in handling the crisis while 38% disapprove of how he has done. Six in 10 independents approve of how Trump has done on the coronavirus.
---
Taiwan, le pays qui embrasse l'IA et les data, tout en protégeant ses citoyens : une solution gagnante face au COVID-19
Under the leadership of Audrey Tang and her Sunflower and g0v movements, almost half of Taiwan's population has joined a national participatory data-governance and -sharing platform that allows citizens to self-organize the use of data, demand services in exchange for these data, deliberate thoughtfully on collective choices, and vote in innovative ways on civic questions.

Driven neither by pseudo-capitalism based on barter nor by state planning, Taiwan's citizens have built a culture of agency over their technologies through civic participation and collective organization, something we are starting to see emerge in Europe and the US through movements like data cooperatives.

Most impressively, tools growing out of this approach have been critical to Taiwan's best-in-the-world success at containing the Covid-19 pandemic, with only 49 cases to date in a population of more than 20 million at China's doorstep.
---
Meilleurs passages du grand entretien de François Lenglet avec le Figaro (article payant)
LE FIGARO. - La crise sanitaire que nous traversons se double d'une crise économique inédite. Quelles peuvent être les conséquences de celle-ci?

François LENGLET. - Tout dépendra bien sûr de la durée de la crise sanitaire, qui est le facteur premier. Si l'on extrapole à partir de ce qui s'est passé en Chine, on a une récession à deux chiffres pendant deux mois, c'est-à-dire mars et avril, de l'ordre de - 15 %. Ce qui déboucherait sur une récession de - 3 % environ sur l'année 2020 en Europe. Mais la stratégie que nous avons choisie pour lutter contre le virus est différente, le confinement est moins strict. L'éradication du virus pourrait être plus longue à obtenir et les perturbations de l'économie pourraient être plus durables. Ce sera probablement la récession la plus sévère depuis l'entre-deux-guerres, en temps de paix. Il y a un arbitrage entre la santé et l'économie: le confinement est nécessaire pour la santé, mais il est dommageable à l'économie. Nous avons choisi la santé, et tant mieux. Le prix à payer est la chute de l'activité.

Pour tenter d'apaiser les marchés financiers, la Banque centrale européenne a débloqué 750 milliards d'euros. Que cela vous inspire-t-il?

D'abord une remarque optimiste. Il n'a fallu qu'une semaine pour corriger la boulette de Christine Lagarde, qui déclarait jeudi 12 mars que la BCE ne pouvait rien faire. Six jours après, le 18 mars dans la nuit, la BCE sortait le «bazooka», avec ces centaines de milliards. En 2008, il avait fallu attendre quatre ans, à l'été 2012, pour que la BCE fasse de même, avec la fameuse déclaration de Draghi: nous ferons ce qu'il faut «whatever it takes», quoi qu'il en coûte, avait-il déclaré, pour calmer les marchés. On a donc gagné du temps cette fois-ci. Mais la situation est plus grave. Le traitement de cette crise va nécessiter des milliers de milliards, et personne ne les a. Seule la planche à billets peut financer une telle somme, dans un climat de panique comme celui d'aujourd'hui.

La décision de la BCE, c'est de se soumettre aux pouvoirs politiques - et à la réalité - au détriment des principes fondateurs de l'euro, qui visaient la protection du capital, donc la préservation de la valeur de la monnaie. On va sacrifier la valeur de la monnaie à la lutte contre la crise, en créant un océan de liquidités. C'est-à-dire qu'on va tondre le capital et l'épargne. Et ça sera la même chose partout. C'est la dernière étape de la crise de la dette, initiée dans les années 1980. Faute de prêteurs, on mobilise désormais le «prêteur en dernier ressort», la banque centrale, le saint-bernard de la finance. Qui sera bientôt, elle aussi, chargée de dettes qu'on ne remboursera pas. Mais qui viendra alors sauver saint-bernard? Personne. Car il n'y aura plus personne avec suffisamment de crédibilité. Il n'y aura que le retour à la réalité: une perte de confiance dans la monnaie, une forte inflation, avec le risque du désordre social qui l'accompagne. Comme pendant une guerre.

Nous parlons beaucoup d'«économie de guerre». Est-ce comparable dans la mesure où la guerre dope souvent l'industrie?

C'est une économie de guerre dans le sens où sont revenues des peurs primitives, celle de ne pas être soigné, à cause de l'afflux de malades, celle de ne pas manger, à cause des pénuries réelles ou hypothétiques, dans les supermarchés, de la peur de perdre ses économies. Et que ces peurs se sont substituées à nos «émotions» économiques habituelles, le désir de consommer par exemple. En ce sens, c'est bien la guerre. C'est vrai qu'il n'y a pas d'investissements massifs de l'État dans l'industrie. Mais ça va venir, après la crise. Il va y avoir une vague d'investissements considérables dans la santé et l'industrie pharmaceutique, pilotée par les États, au nom de la sécurité sanitaire nationale. (…)

Plateformes, Gafa et grande distribution semblent être pour l'heure les vainqueurs de la crise. Et le télétravail pourrait faire ses preuves. L'ubérisation accrue de l'économie se confirmera-t-elle?

Le basculement est temporaire, me semble-t-il, au moins avec cette intensité. Sur le plan du travail, il pourrait y avoir deux phénomènes contradictoires, à la suite de l'épidémie. D'abord un gigantesque mouvement de productivité, quand les entreprises auront réalisé qu'elles peuvent produire autant avec moins. Grâce aux technologies, grâce à une meilleure organisation. La nécessité brutale dans laquelle nous plonge l'épidémie les fait réfléchir comme elles n'ont jamais le temps de le faire, sur leurs processus de production, sur l'efficacité, sur ce qui est important et ce qui ne l'est pas. Ça laissera des traces. On constate cela après toutes les grandes épidémies. La productivité de l'économie va probablement grimper fortement, ce qui contrasterait avec la période d'avant le virus, où elle était à zéro. Pour autant, je ne crois pas du tout à l'essor durable du télétravail. La présence physique et les contacts constituent une partie importante du travail, de son intérêt, on va s'en rendre compte aussi avec ce confinement. Et même pour les entreprises technologiques qui sont, remarquez-le, toutes installées dans une dizaine de communes seulement, principalement des grandes villes. Et pas en Lozère, alors qu'elles pourraient techniquement le faire. Les gens ont besoin de se voir, d'échanger, de se déplacer. Nous sommes contraints en ce moment d'inventer l'économie sans contacts, cela va nous faire redécouvrir la valeur des liens professionnels entre collègues.
---
Yann LeCun sur la difficulté du deeplearning à identifier les liens de cause à effet, pourquoi ce n'est pas nouveau ni si grave (twitter thread)
We often hear that AI systems must provide explanations and establish causal relationships, particularly for life-critical applications. Yes, that can be useful. Or at least reassuring....

But sometimes people have accurate models of a phenomenon without any intuitive explanation or causation that provides an accurate picture of the situation. In many cases of physical phenomena, "explanations" contain causal loops where A causes B and B causes A.

A good example is how a wing causes lift. The computational fluid dynamics model, based on Navier-Stokes equations, works just fine. But there is no completely-accurate intuitive "explanation" of why airplanes fly.

Is it because of Bernoulli principle? Because a wing deflects the air downwards? Because the air above the wing want to keep going straight but by doing so creates a low-pressure region above the wing that forces the flow downwards sucks the wing upwards?

All of the above, but none of the above by itself. Now, if there ever was a life-critical physical phenomenon, it is lift production by an airliner wing.

But we don't actually have a "causal" explanation for it, though we do have an accurate mathematical model and decades of experimental evidence. You know what other life-critical phenomena we don't have good causal explanations for?

The mechanism of action of many drugs (if not most of them). An example? How does lithium treat bipolar disorder? We do have considerable empirical evidence provided by extensive clinical studies. This is not to say that causality is not an important area of research for AI.

It is. But sometimes, requiring explanability is counterproductive.

(il cite cet article : No One Can Explain Why Planes Stay in the Air, www.scientificamerican.com, Feb 2020)
---
Meilleurs passages de l'article Inside Elon Musk's plan to build one Starship a week—and settle Mars
Elon Musk : "I think we need, probably, on the order of 1,000 ships."

To really accelerate, his bleary-eyed engineers and technicians responded, they needed enough employees to assign workers to particular stations within the burgeoning factory, allowing each person to specialize. This would require a lot more hands that could build things.

"I said, 'OK no problem,'" Musk recalls. "I said, 'You can hire people—just know your reputation is on the line.

Musk told his team members they would have a recruitment gathering just 12 hours later, at 1pm that Sunday. They would have another one on Monday at 1pm and then again at 8pm. Long lines of people showed up, family members and friends, mostly local. Cars and trucks jammed the roadside up and down Boca Chica Highway. At 11pm on Monday night, SpaceX was still hiring.

All told, the company added 252 people to its South Texas Launch Site on that Sunday and Monday. It doubled the workforce, just like that, to more than 500 workers. Most of the new hires, even those who had inked contracts at midnight, were told to report for work the next morning

Musk, in fact, aims to reach a point where the company builds a Starship a week by the end of this year.

Compare that to NASA and its Space Launch System, the big rocket that the space agency has been developing for a decade and for which Boeing only recently completed a single core stage. This core stage is about 15 meters taller than Starship but lacks its complexity. NASA will, in fact, toss each SLS core stage into the ocean after a single use. And Boeing doesn't have to make the engines, as the rocket uses 40-year-old space shuttle main engines. Despite this, and with nearly $2 billion in annual funding from NASA, Boeing's stretch goal for building core stages is one to two per year... some time in the mid-2020s.

SpaceX's stretch goal is to build one to two Starships a week, this year, and to pare back construction costs to as low as $5 million each.

"That's fucking insane," I said.

"Yeah, it's insane," Musk replied.

"I mean, it really is."

"Yeah, it's nuts."

"As I look across the aerospace landscape, nobody is doing anything remotely like this," I said.

"No, it's absolutely mad, I agree," Musk said. "The conventional space paradigms do not apply to what we're doing here. We're trying to build a massive fleet to make Mars habitable, to make life multi-planetary. I think we need, probably, on the order of 1,000 ships, and each of those ships would have more payload than the Saturn V—and be reusable."

SpaceX engineers and technicians in Boca Chica needed eight months, from last April through November, to build the first Starship prototype, MK1. (It blew its top, too.) But the workers in South Texas only needed a month, from late January to late February, to assemble SN1. And SN2 is following only about two weeks behind SN1.

"The problem with the MK1 stuff was that I didn't have my eye fully on the ball, because I was still taking care of a lot of Tesla stuff," Musk said. "Now Tesla, I think, is in a good situation here, so that's why I'm pretty much camped out in Boca. The MK1 was a failure not because the rocket failed at low pressure, but because we failed to build a production line."

Musk is making the machine to make the machine. Musk has brought lessons learned from Tesla's assembly line so workers do not burn out. They will work three 12-hour days and then have a four-day weekend. Then they'll work four 12-hour shifts with a three-day weekend. Thus, with four shifts, the Boca Chica site can operate at full capacity 24 hours a day, seven days a week. SpaceX is throwing in hot meals every three to four hours, for free.

The place feels the way a US Navy shipyard must have felt in the weeks after Pearl Harbor—insanely busy but also purposeful.
---
Incroyable : In October 2018, Polar, a U.S.-based company that tracks heart rates, monitored chess players during a tournament and found that 21-year-old Russian grandmaster Mikhail Antipov had burned 560 calories in 2 hours of sitting and playing chess -- or roughly what Roger Federer would burn in 1 hour of singles tennis. (source)
Et aussi, "how chess players are optimizing for results":
The current world champion chews gum during games to increase brain function

…je repense à tous ces professeurs qui conspuaient les élèves qui mâchaient du chewing gum, les qualifiant de vaches qui regardaient les trains passer…

Adjusting how forward to lean (to reduce headaches and increase brain oxygen)
---
Cadeau : pas mal, l'IA qui fait sourire Cléopâtre, Marylin Monroe..et la laitière en même temps (la vidéo de 15 secondes sur twitter)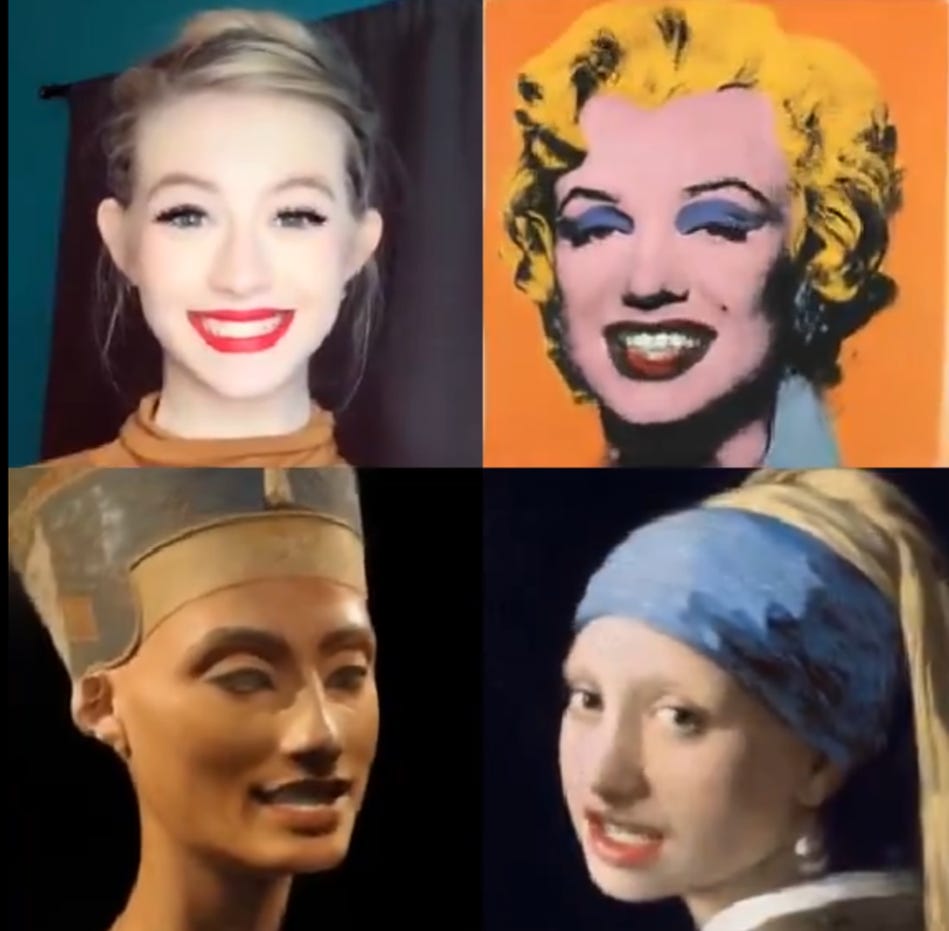 ---
Comment le Japon avait anticipé Skype dès 1920!!!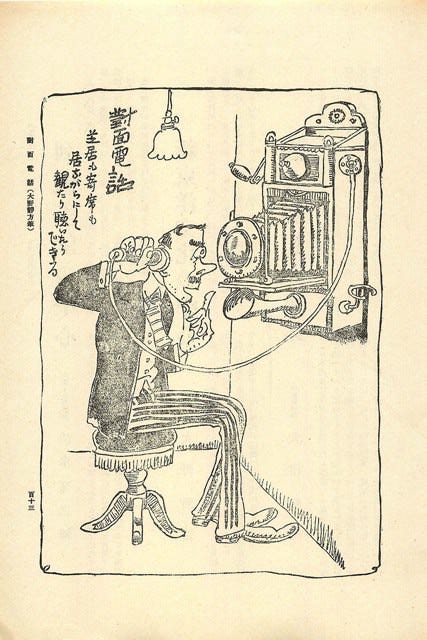 (Autres images issues de la même source ici)
---
Voici les liens vers les dernières newsletters, just in case…
L'addition ?
Cette newsletter est gratuite, mais si vous souhaitez m'encourager à continuer ce modeste travail de synthèse, vous pouvez simplement :
étoiler ce mail et/ou y répondre d'un mot, pour que les algos des messageries comprennent que ce n'est pas du spam (j'espère), cela permettra une meilleure distribution!

forwarder cet email à quelques ami(e)s et collègues avec un petit mot, voire de les inscrire directement ici !
Merci d'avance :)
Quelques mots sur moi
J'ai écrit plus de 50 articles ces dernières années, à retrouver ici, dont une bonne partie publiés dans des médias comme le Journal du Net (mes chroniques ici), le Huffington Post, L'Express, Les Échos.

Je suis CEO et co-fondateur de l'agence digitale KRDS, nous avons des bureaux dans 6 pays entre la France et l'Asie. Je suis basé à Singapour (mon Linkedin), également membre du conseil d'administration des think tanks Live with AI et NXU qui entendent chercher à comprendre comment nous pourrons apprendre à vivre avec l'intelligence artificielle et mieux anticiper les changements qu'elle va apporter.

Retrouvez-moi sur twitter en cliquant ici : je tweete des faits et infos contre-intuitives, brèves, à consommer sur place (et non pas des liens sans contexte vers des articles interminables), Jacques Attali est un de mes followers par ewemple.
C'est tout pour cette semaine !
Merci, et portez-vous bien !
Thomas